Did you know it's Friday?!?! I keep forgetting.
But you better believe I'm stoked.
And what better way to celebrate than with awesome linkups :)
So join the fun!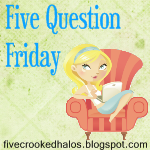 1.
What is your favorite Christmas decoration in your house?

I'm an awful slacker. My Christmas decorations are STILL in boxes. Which means I don't remember from last year which is my favorite. I'm hoping to whip up a kickbutt advent calendar soon, and I do believe that THAT will be my favorite.
2.
Do you finish your Christmas shopping early or are you a last minute type?

I'm sooooo close to finished! One more present to buy :)
3. When do you turn on your heat?

Preferably never. But I'm guessing I will when the temperatures start dropping below freezing.
4. Do you ever wish your blog was private?

Well, this one is in a way because I don't use my real name and make no references to my IRL identity. It's actually really nice to be able to be really real without judgment from peeps who love ya.
5.
Do you put your deodorant on before of after you put on your shirt?

Before. I think the whole dance of putting it on afterwards would be a bit awkward.
1. The holiday season is
a beautiful reminder of God's love. but can be quite crazy and downright hectic
.
2.
Snow makes me
happy ONLY if the University closes. Otherwise it's practically suicide attempting to drive. Down here in the South, we do NOT know what to do with snow!
.
3.
The best comfort food to eat when it's cold out is
Chicken Chili. It seriously makes me the happiest.
.
4.
Winter is the best time for
laziness because I so don't have to shave in the winter! Did I mention that there ARE perks to being in a long distance relationship?!?!
.
5.
I can hardly wait for
the party week which is coming up in about 2 short weeks!
.
6. When it comes to holiday gifts I prefer to
shop for them online! Makes my life a thousand times easier and keeps me out of traffic

.
7. If I were to rate my excitement about the holiday season on a scale from 1-10, I would say I am at about a
4 or 5 currently. For me the holiday season is not allowed to start yet. Life is super busy at the moment. And I just can't think about Christmas this week

.