Did you know today is Friday? Oh my gosh, I literally JUST realized that as I typed that sentence.
That is not a joke. I originally meant to write did you know today is Thursday, but my brain kicked in right after is and typed Friday. It was quite a shock to me for sure. So, is this Friday revelation as shocking to any of you?
Nope? Just me? Well, I am pleasantly surprised.
And I have totally digressed ....
Sorry that I have been missing for the past couple of days.
Wednesday was our Christmas luncheon at work. It was a fun day but super busy because I was in the office only for a few short hours. And Thursday I took the day off to go car hunting ... Sadly, I am STILL car-less, but I hope to remedy that oh so very soon (maybe Saturday). Needless to say this has been quite the busy week.Towards the end of next week, I'll be busier than any bee ever imagined being. But not to worry because I won't leave you high and dry. I'm working on a series all about letters which I will post while I'm away. Anyways, since I have now realized that it is once again Friday, let's move on to a fun Friday linkup.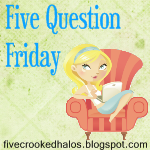 1. W
hat is your favorite Christmas cookie?

I love my straight up chocolate chip cookies. PB always wants me to make oatmeal chocolate chip cookies. They're his favorite. And I finally perfected that recipe so I kinda love them too!
2. W
hat's your favorite holiday movie & why?

The latest remake of A Christmas Carol. I love that story and the latest remake was closer to the reality of the story than the previous ones.
3.
Is there a gift that you bought for your kids that you wish you

hadn't

after they opened it?

Ah, the simple joys of not having children!
4.
What is the messiest room in your house right at this moment?

That silly back bedroom. I tore it apart the other night looking for the title to my car ...
5.
What is the furthest you have driven for the holidays?

1-3 states away. About 5-9 hours :)