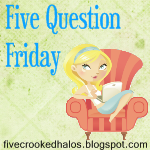 1.
What's the last thing you spent too much money on?

Groceries. Sad but true. I wish it had been something super awesome, but no it was just my crazy baking that killed my budget.
2.
What celeb chef would you want to make you dinner?

I'm going to Google celeb chefs and get back to you on this. Well, crap, my Google attempts did not produce any super hot celeb chefs .... So I'm going with Paula Deen because what girl doesn't love Southern cooking and butter. And Paula would crack me up the whole time!
3. W
here do you hide things when visitors pop over or do you let them see the real deal?

That depends on how much notice I have. If they call at all, then you better believe I hide things in every closet, cabinet, cubby hole I can find. But if that doorbell rings without any notice then what you see is what you get.
4. W
ho is your oldest living family member?

In my immediate family, my Grandpa. I have a few great aunts who are older than him, though.
5.
What is your favorite DQ treat and/or Sonic drink combo (ie: cherry vanilla Dr. Pepper)?

I've yet to be brave enough to try a Sonic drink combo, so I'll just give you my tried and true DQ treat. Midnight Truffle Blizzard. Rich. Chocolate. Yum!
2.
Something I am thankful for is
pseudo nieces and nephews. Especially the newborn ones. PB's sister just had a sweet baby boy! And I'm so thankful for him and my two sweet nieces via PB
.
<---- This counts as my Thankful Thought #11!
3.
Something that made me laugh this week was
Failbook. It totally makes me giggle. See example below
.
4.
An item that is currently on my wish list is
a loveseat. My poor living room is currently without seating ...
.
5.
I am excited about
a chill weekend! And good food tonight ...
.
6. If I were a color I would be
peach. [A] I already am pretty much peach! [B] Being from GA, I'm often called a peach. [C] It has no major gender ties. [D] It's pretty awesome!

.
7. My favorite way to spend a chilly fall day is by
sitting on freezing cold bleachers bundled up so that only my eyes are visible watching my Dawgs beat the tar out of someone

.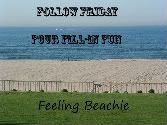 My first car was a Nissan Maxima
I find a leisurely stroll very relaxing
Red roses make me think of Valentine's Day.
Next year, Sibling and I will host a Christmas party.